In the second round of La Liga, Barcelona played against Biba. For Barcelona, ​​which had a bad record this season, they were not optimistic about the match. After Valverde finished class, Barcelona had a worse away record. Barcelona played Biba, 1 draw and 2 losses nearly 3 times. The last time Barcelona had an away win over Biba was when Valverde was coaching.
In the game, Koeman, who likes to change the formation, resumes Barcelona's traditional 433 formation, but the position of the midfielder has changed a lot. The striker Messi plays the center, Griezmann and Dembele are on the left and right, and the midfielder is in the center Busquets, Frankie De Jong played on the right and De Perry on the left.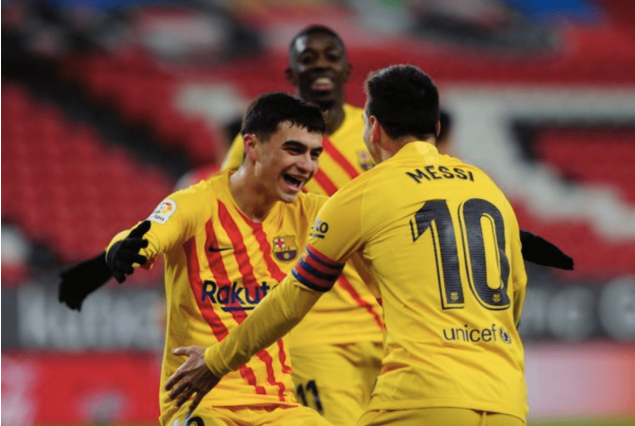 Only 3 minutes into the game, Barcelona was already behind 0:1, which seemed to be a bad sign. At a critical moment, Messi stood up to turn the tide, but the first to tie a goal for Barcelona to stabilize the position is the teenager Pedri. Barcelona's lead goal was also Pedri assisted, Messi scored. In the second half, Messi scored twice to seal the victory. At the last moment, Messi made a mistake and was pulled back by the opponent, but it was irrelevant.
After winning this game, Barcelona has been unbeaten in nearly 7 rounds. It has scored 31 points in 17 rounds and rose to the third place in La Liga, 5 points behind Real Madrid, 7 points less than the top Atletico Madrid (2 rounds less).
In this hard-won victory, Messi was the first minister, followed by Pedri. As for Dembele, Griezmann, Frankie De Jong, etc. who have been introduced at a high price, they still have little contribution to the team.
In the summer of 2017, Barcelona introduced Dembele from Dortmund with a transfer fee of up to 150 million euros. In the summer of 2016, Barcelona could have introduced Dembele directly from Rennes, but did not want to meet the player's guarantee of playing time. At the time Neymar was still in the line and was signed by Dortmund. The transfer fee was only 15 million euros. A year later Then sell to Barcelona, ​​the transfer fee is 10 times!
Pedri has played 17 times for Barcelona in La Liga this season, including 11 starts, contributing 2 goals and 2 assists. Dembele played 11 times in La Liga this season, including 6 starts, scoring 2 goals and 0 assists. Pedri is now worth 50 million euros, which is nothing more normal. Dembele's current value in the German transfer market is only 50 million euros.